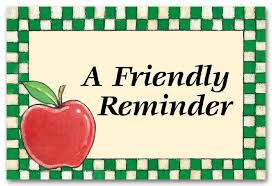 IMPORTANT REMINDERS FROM THE SCHOOL OFFICE
Welcome Back Students and Parents! Here are some reminders to be aware of as we get the new school year underway:
 
ARRIVAL & DEPARTURE TIMES
8:30 am   Student Arrival Time:  Full Supervision Available
9:00 am   Class Begins
3:30 pm   Dismissal             Fridays Dismissal at 1:30 pm
Free or Reduced Lunch Applications are available in the office.  This form must be filled out every year.
Emergency Contact Information should be updated in the office to assure that we can reach you as needed if your child is sick, etc.
Classroom Interruptions/End of the Day -- Educating your child is our main goal. Please help us by keeping "change of plan" phone calls to a minimum, unless it is an emergency.
¡Bienvenidos estudiantes y padres! estos son algunos recordatorios que deben de estar consiente a medida que el año escolar comienza:
Hora de Llegada y de Salida
8:30 am   Hora de Llegada Para los Estudiantes: Supervisión Completa Disponible
9:00 am   Clase Comienza
3:30 pm    Hora de Salida        Los viernes salen a la 1:30 pm
Formas para Almuerzo Gratis o  Precio Reducido Están disponibles en la oficina de la Escuela. Esta forma debe de ser llenada cada año.
Información de Contactos de Emergencia Favor de dar a la oficina los números correctos para poder localizarlo en caso de una emergencia o enfermedad.
Interrupciones en los Salones de Clases/Al Final del Día-- La educación de su hijo es nuestra meta principal.  Por favor ayúdenos manteniendo "Los cambios de planes" con llamadas mínimas, al menos que sea una emergencia.